Silver diamine fluoride (SDF) is an antimicrobial liquid that is painted onto decayed baby teeth to treat the decay. It is composed of two primary components: silver and fluoride.
Silver acts as an anti-microbial that can inhibit the decay causing bacteria and possibly halt the progress of the decay.
Fluoride is the active ingredient and it strengthens enamel which can prevent additional decay from occurring.
SDF works by allowing the soft decayed part of the tooth to harden. It can help to keep the decayed teeth stable until the tooth falls out, if it is a baby tooth or your child is able to manage to have a filling.
Pros
This treatment carries very little risk and generally has no side effects
Application is quick, pain-free and does not involve the use of a drill
It can stop tooth decay and help to prevent it reoccurring in the same area
Cons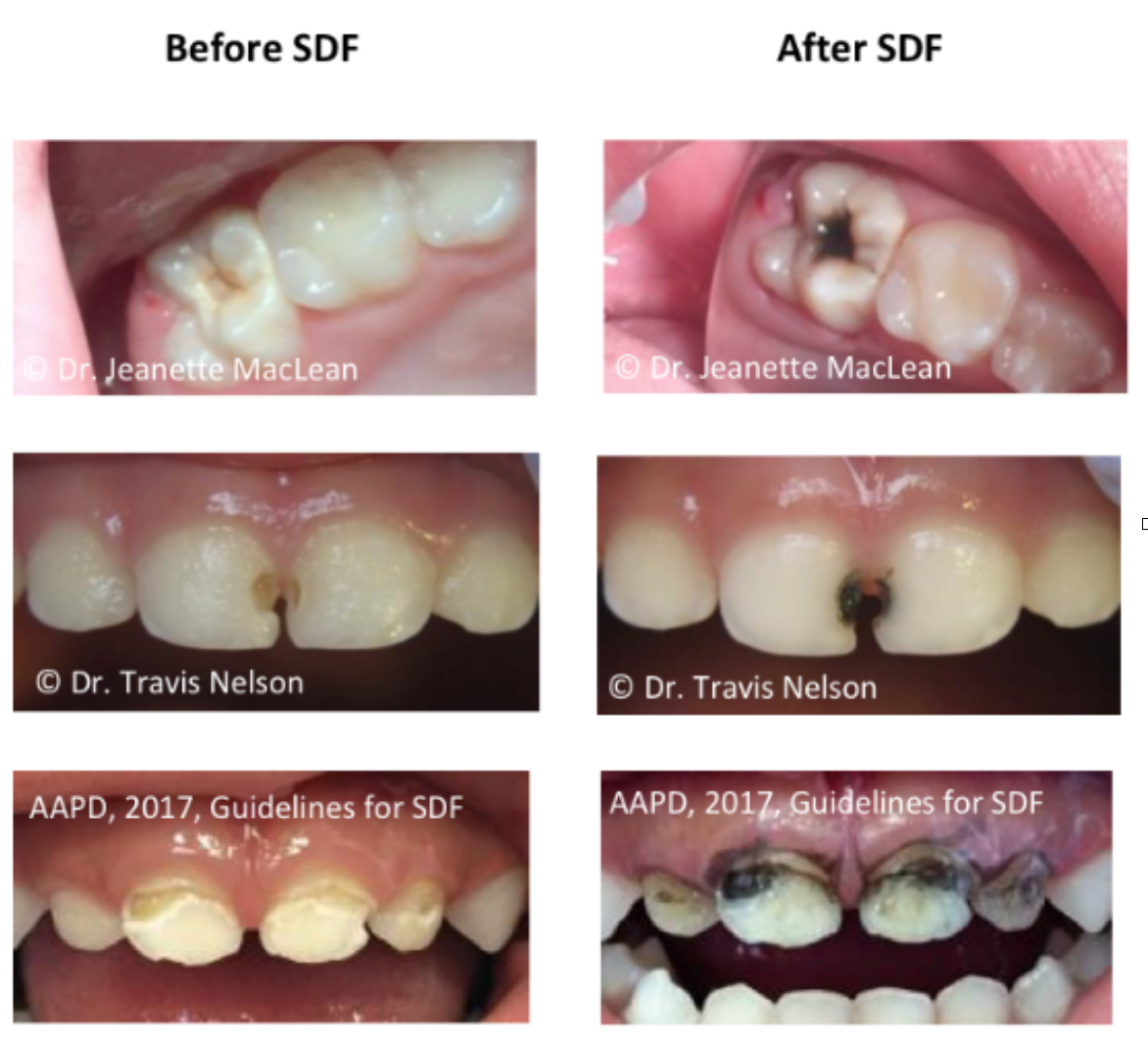 SDF does make the decayed part of the tooth surface that it is applied to permanently black in colour. Healthy enamel remains stain free and is not changed by SDF
It can stain lips and gums if it touches them but this will wear away after a few weeks, we will do what we can to prevent this from happening
Other things to be aware of
SDF is not a filling so if there is a large hole in a tooth this will remain and may require a filling to stop food trapping in there.
Further application may be necessary.
If the nerve of the tooth has been affected, SDF cannot be used
SDF is not licensed for this use in the UK and therefore it is being used as an off label cariostatic (decay preventing) agent. It is used in many other countries including the US, Australia, Brazil, China, Hong Kong and Japan which supports the use of SDF as a cariostatic agent.
From a safety point of view SDF has great appeal. It allows treated teeth to stay in place for longer thus keeping space for the adult teeth to erupt into the correct position.
Treated teeth usually no longer cause the pain or sensitivity that you would normally associate with a hole in a tooth.